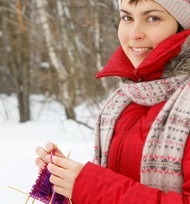 Hi and thanks for visiting Crocheting For Profit! I have always absolutely loved both knitting and crochet and this site was originally started to be about making money from crochet, but has since evolved to also help you with good old fashioned crochet advice as well, covering a range of the most useful crochet tips I can provide. I guess my crochet tips are probably aimed more so at beginners than advanced crocheters since these are the sorts of questions/topics I am most asked about – so I thought I would put them down here on this blog!
Of course, on this site you will still find lots of great information, practical advice and ideas about how you can make money from your crochet by starting your own crochet business.
You will discover the many advantages of having your own crochet business along with a look at the challenges. You will also discover some of the common myths about being able to make money from crochet and what type of things you should look out for or consider before starting your own crochet business.
And of course you will also find practical advice about how you can work from home crocheting and make money and  suggestions as to how you can find your perfect work at home business idea that will suit your interests, talents and needs the best.
If you have any questions or comments please leave some feedback, and if there is a crocheting for profit idea that I have not reviewed yet please let me know as I am always looking for new and improved profitable crochet ideas to feature.
I hope you enjoy Crocheting For Profit!
Emily